irasshaimase
"Welcome"
Welcome to my site about Sushi and Eating Japanese Food
"Americanized"
Here you will find links to Sushi (Zushi) places, comments about the ones here in Connecticut, how to use chopsticks, links to places that carry items needed to make your own sushi, and some things we have found useful in recent times to enjoy Japanese culture and food. We do not pretend to know exactly what is proper or not proper in the methods of consuming Japanese foods but we sure do enjoy it! We have found some very good places to eat and buy food stuffs and some that are not so good. The most important thing to remember is to enjoy yourself without breaking the bank.

Watch and learn, practice and eat.
The art of eating with chopsticks is a practiced one.
Use those chopsticks:
When first getting the chopsticks, they may be joined at the top (we bring our own as we are used to the feel of them.). Carefully split them apart.
1. Place one chopstick in the hollow between the thumb and forefinger and support it on the ring finger.
2. Hold the other chopstick with the tips of the thumb, forefinger and middle finger and manipulate its tip against the tip of the other one, which is held stationary.
Remember the chopstick on the bottom relaxes as the one on the top does all the work.
---
So what is this thing called Sushi?
No, it is not just raw fish (bait food as some American beef eaters call it..). It can be cooked as well, like octopus, eel, soft-shell crab and Vegetarian dishes. Actually sushi means vinegared rice that is rolled with vegetables, fish or pickles. There are different sushi formats like Nigiri (hand-shaped), Futo (thick), maki (rolled), Temaki (hand-rolled), chirashi (scattered on top of the rice).

Nigiri-Sushi ( fish on hand formed rice - a hand-shaped piece of rice with any sort of sliced raw fish on top.)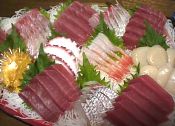 Sashimi ( raw fish slices on a bed of rice )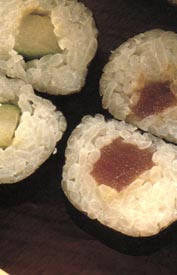 Nori-maki ( nori seaweed roll or a rolled piece of rice filled with raw fish (Tekka maki - tuna, sake maki - salmon) or vegetables like cucumber (kappa maki), wrapped in Nori and usually cut into six to eight pieces.)
Gunkan-maki ( Fish eggs on rice wrapped with nori )
Futo-maki ( Large roll )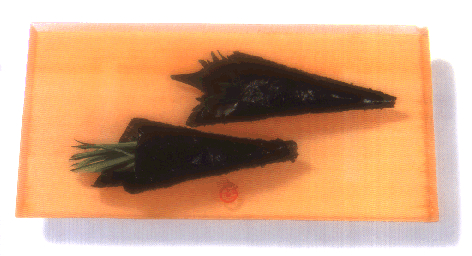 Temaki-sushi (Hand roll)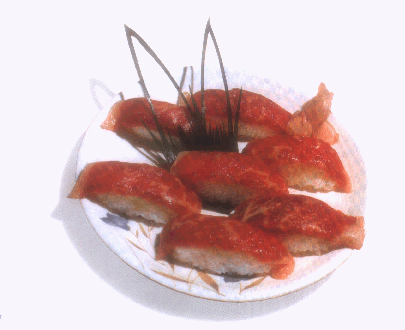 Nigri-sushi A Beef Lovers Delight (yes, its raw)
Obdon (platters or trays to serve guests)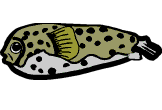 Fugu - only for those who dare
---
Itadakimasu
(Bon Appetite)
Eating Japanese food:
You may either eat with chopsticks or your hands, but there is a proper way with either method.
To eat Sushi with chopsticks: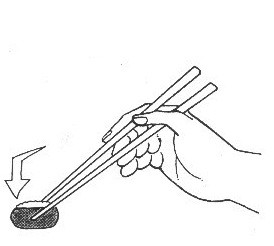 Turn the Sushi on one side gently, so that the rice doesn't fall apart. Dip the end of the topping in soy sauce. Bring the Sushi to the mouth with the side topping facing down.
Using your fingers: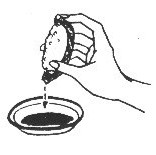 Make sure that they give you a hot towel to clean ones hands and face before eating. You may also ask for one to be left at the table so as to clean ones hands during dinner.
Now, place the forefinger on topping of Sushi first and pick up the piece with the thumb and middle finger. Some people place a piece of ginger between the topping and the finger (no fishy finger that way). Dip only the topping in soy sauce. Or turn the piece of Sushi up-side-down and dip the end of topping in soy sauce. Place the Sushi in the mouth so that the topping encounters the tongue first.
Fondness for soy sauce lead some people to soak the rice part of Sushi. This is not kool, not only will the rice fall apart, but the flavors of both topping and rice will be destroyed. Remember the price you just paid for this fish! Soy sauce is not a concealment, but an enhancement for food.
Pickled Ginger is not a condiment to be eaten with the sushi, but eaten to clean ones palette between different pieces. All too often we see people stack tons of wasabi and ginger on their sushi, why eat the fish if you like the taste of just condiments.
---
The word for "meal" in Japanese is gohan. This word actually refers to steamed rice, but rice is such an important food to the Japanese that gohan has come to mean all sorts of meals--even Western ones like spaghetti. The most traditional Japanese meal is a serving of plain, white rice, along with a main dish (fish or meat), some kind of side dish (often cooked vegetables), soup (either miso soup or clear broth), and pickled vegetables.
Before eating, Japanese people say "itadakimasu," a polite phrase meaning "I receive this food." This expresses thanks to whoever worked to prepare the food in the meal. Many people eat by taking a bite of the main or side dish, then eating a little rice, and then having a sip of soup straight from the bowl (soup isn't usually eaten with a spoon). A little rice is saved until the end of the meal, when it is eaten with the pickled vegetables.
After eating, people once again express their thanks for the meal by saying "gochiso sama deshita," which literally means "it was quite a feast."
---
Where to go:
Now that we have your mouth watering and you think you want to try some, here are a few places we have found around Central Connecticut. This is our own rating system applied here, you may find it different then we did when we went, but it should be close. 1 fan = so so, while 5 fans is the highest recommendation to go eat there. Ratings are based on service, cost, quantity/quality of food, atmosphere, and friendliness. We have found most A-Al-Carte prices close to the same price with few exceptions, most range from $3.50 to $4.75 for 2 pieces of Sushi. Rolls on the other hand can vary up to a few dollars for the same type of roll.
Our Favorites are ranked below

---
Noble Hibachi and Sushi Bar
235 Queen St. - Southington - Open 7 days a week - Tel (860) 628-7888 Fax (860) 276-5858
Located in the Walmart Mall on route 10 in Southington. We have eaten there but only at the Sushi Bar. Cuts are thin, nothing special, and most cuts are just so-so. Fancy plating if you like that, they tend to put sauce on everything, so if you like that then you might be happy. The hand rolls aren't bad, typically $4.00 to $8.00 - again what I call American Street Sushi.
---
Japanica II- located in Middletown Plaza- Open 7 days a week (Mon-Thurs. 11:30-10pm Fri & Sat til 11pm Sun 1pm to 10pm)
852 Washington St. Tel: 860-346-4498 Fax: 860-346-6799.
Use to be our favorite place! It has changed hands so take your chances.
Perfect size restuarant, private booths, great variety dishes, their boat called Chef Sushi, is 18 pieces for $27.00 with 2 rolls. Good heavy cuts of fish, tempura is great, also an excellent wait-staff. Try the Spicy Sashimi Tuna, UNI with Quail Egg, or the Seaweed Salad! Sushi bar, Hibachi, Shabu-shabu, luncheon boxes, take outs and catering. Super nice owners and wait staff, once they get to know you they welcome you as one of the family. Some of the best baby Tako (ask them to warm it up!), steamed red snapper, Toro and UNI around!
2005 - Robert returned after a little over a year away. I received a phone call which almost had me fall off my chair at work. This is the best news to start a New Year with ever! We may not get Simon back but we are half way there and will be assured to get the service we were use to over the years again! - Updated Jan - 2005
All of the people that started up this restuarant have left for places of their own. Robert, who was the manager and in our view the best manager ever, has left for California and Simon, who we called our son, has left for Milwaukee, Wisconsin along with one of the other Sushi Chefs to start their own place. Simon also got married, sorry girls! Linda who was our favorite waitstaff person ever as well as Lou the cook has also left.
Walter, the owner, and his wife have recently been alternating duties between Japanica 1 and Japanica 2. We miss all of you guys! - Updated Dec- 2003
---
Higashi - located in South Windsor at 1735 Ellington Rd. Next to the Junctions of RT30 & RT 74 & RT 194 - Tel: 860.644.7788
Open 7 days a week (Mon - Thurs 11am - 9:30pm Fri til 10pm - Sat Noon -10pm Sun til 9pm)
A close second!
Smaller place, very nice folks, great service, best boat deal (a boat is a dish containing a variety of sushi cuts plus usually 2 rolls) 22 pieces for $29.00. Good cuts of fish, tempura is fine, fairly good wait-staff - varies with turn over. Some of the best UNI !
---
Ginza - located in Bloomfield in the Wintonbury Mall. - Tel: 860.242.8289 Fax:860.242.8631
Open 7 days a week (Mon - Thurs 11:45am - 10pm, Fri & Sat 11:45am -11pm, Sun 1pm - 10pm)

A good medium size place, some what pricey, very nice folks, great service, good cuts of fish, tempura is good, a friendly and attentive wait-staff. Some really good Hamachi cuts! Sushi bar, Hibachi area, and some interesting special combo rolls. First, second and Third impressions, excellent! Further visits have hit the wallet big time, don't get me wrong they have good food. But be prepared to drop some $$$$ - they do get top dollar for the Seasonal Priced items! ASK BEFORE YOU ORDER as some items will cost you up to 40% more then other Sushi places!!!
Last heard that they are changing owners, William is gone, and they may be changing the fare!

---
Sho-Gun - Now MinGhung - It has a web presence Min Ghung
Located in the Glen Lochen Market Place - 39 New London Tpk - Glastonbury - Tel: 860.659-2568 - Open 7 days a week
MON - FRI 11:30 AM - 3:00 PM//5:00 PM - 10:30 PM - SAT 11:30 AM - 10:30 PM - SUN 12:00 PM - 10:00 PM
[Rating yet to be determined] Multi-ethnic dinning.
Some of the products were a little pricey, but for the most part worth the money. Excellent wait-staff, friendly, GOOD cuts, excellent sushi rice, and excellent atmosphere (one of the best). If it were not for the pricey-ness of their platters, I would rank it even or better than Higashi (one must be mindfull of ones wallet after all).
---
Japanica III- located in Waterbury - Open 7 days a week (Mon-Thurs. 11:30-10pm Fri & Sat til 11pm Sun 1pm to 10pm)
780 Lakewood Rd. Waterbury, CT 06704 Tel: 203.753.1675 Fax: 203.753.1681

Report to follow its opening
---

Japanica - located in Farmington Exchange - Open 7 days a week (Mon-Thurs. 11:30-10pm Fri & Sat til 11pm Sun 1pm to 10pm)
270 Farmington Ave #101 - Farmington, CT 06032 Tel: 860.677.5633 Fax: 860.677.5597
Falling from grace recently (06-15-2001) some poor Sashimi reports from friends!
Open area, private booths, more toward the American style of eating, great variety dishes, their boat is 18 pieces for $27.00 with 2 rolls also. Good heavy cuts of fish, tempura is great, also a good wait-staff. Sushi bar, Hibachi, Shabu-shabu, Stone BBQ. Excellent owner and wait staff, once they get to know you they welcome you as one of the family. Opening in November of 1999 Japanica II in Middletown at 852 Washington St. Tel: 860-346-4498 Fax: 860-346-6799.
---
Peking Tokyo - located in the Mystic Factory Outlet 1 - open 7 days a week 11 am to 10 pm (Fri and Sat to 11 pm).
Chinese and Japanese food WEBSITE: PekingTokyo
(12 Coogan Blvd.) Mystic CT 06355 - Tel.: 860-572-9991 Fax:860-572-0550

Peking Tokyo is located across from Mystic Sea Aquarium in the Mystic Factory Outlet, prices are a bit high for what you should get . Cuts thin to average, mostly thin! Very friendly and attentive staff. They have good quality fish but you don't get much. All in all not a good place to try for the first time and certainly not a lot of fish for your money! We didn't try their Chinese food but it looked typical and no Dim-Sum
---
Toshi - located in the Riverdale Farms shopping center, the one with the silo on it, middle entrance - Open 7 days a week (Sunday & Monday 11:30 - 2:30)
136 Simsbury Rd. - Avon Ct. 06001 Tel: 860.677.8242 Fax: 860.677.5359
VERY SLOW! 2008-9 Nothing has changed over the years - still slow!
Nice place to eat, slow service (always) so don't be in a hurry, food is good with some nice cuts of fish, pricey but then again that's Simsbury/Avon. Open area multi- level eating area with plenty of staff, wait-staff not very friendly. Most think that Toshi's has the best/freshest sushi around but you have to take into account more then that when you rate a place.
---
Tokyo - located on Route 10 (Queen St) Southington, go South 3/4's of a mile from exit 32 - located on the right hand side.
172 Queen St. - Southington CT 06489 Tel: 860.276.0706 Fax: 860.621.9953
Slow
Tokyo opened in mid year of 2000, so far it is the only show in town so prices are a bit high. Cuts vary from thick to average depending on who is on duty. Very friendly host, Jeff, but language is a problem here as with most of the staff. Slow but deliberate cuts at the sushi bar, speedy they are not. They usually have good quality fish but running short of some fish is common (better then too old). All in all a good place to try, give them a chance to grow - tell them Chet sent you - Ask for the yellowtail with scallion roll it is great! If it is uni you want they have some of the best!
---
Osaka - SOLD to another - located in West Hartford Center - Open 7 days a week (Mon-Thurs. 12:00-10pm Fri & Sat til 11pm Sun 1pm to 10pm) The restaurant has changed names and I hear about the same messages from friends who have gone there.
962A Farmington Ave - West Hartford, CT 06107 Tel: 860.233-1877 Fax: N/A

Smaller Restaurant, private booths, good variety dishes, their boat is 18 pieces for $28.00 with 2 rolls. Medium cuts of fish,Yakitori is reasonable, a pleasant wait-staff has a Sushi bar, Tempura, and Yakitori. Our only other note is they load the cuts of Sushi with wasabi, that may be because of the young Sushi Chefs, so much so we couldn't enjoy the cuts of fish. Very nice owner but that fact doesn't didn't improve the overall quality of the place. Loads of room for improvement!
---
Mikado - located in Middletown on Columbus Plaza right behind the waterbed store. Further information at their link.

Located in the basement of a building, nice atmosphere but hard walls cause it to be loud, food is good, service so-so, watch your bill - make sure you get what you order (wait-staff not Japanese), pleasant manager, cuts vary in length, width, and thickness. Their UNI was yucko - may be a day old!
---
Mura Saki - Simsbury center

Nice area to eat inside, pricey! Very good cuts of Sashimi - fresh but you will leave some dollars there for sure. Excellent service, recommendedd if you have someone you want to impress.
---
Mura Saki - Wallingford

Nice area to eat inside, pricey! Very good cuts of Sashimi reasonably priced, good thick cuts of Sashimi!
---
Not quite up to date but a great starting point!
---

A really great page featuring sushi rolled into beautiful works of art!
Plus a collection of traditional japanese recipes including; sushi recipes, tempura recipes, hot curry rice recipes and miso soup recipes!
---

Vocabulary and names of things
aji -- horse mackerel
akagai -- ark shell
ama-ebi -- raw shrimp
anago -- conger eel
aoyagi -- round clam
awabi -- abalone
ayu -- sweetfish
buri -- adult yellowtail
chUtoro -- marbled tuna belly
ebi -- boiled shrimp
hamachi -- young yellowtail
hamaguri -- clam
hamo -- pike conger; sea eel
hatahata -- sandfish
hikari-mono -- various kinds of "shiny" fish, such as mackerel
himo -- "fringe" around an ark shell
hirame -- flounder
hokkigai -- surf clam
hotategai -- scallop
ika -- squid
ikura -- salmon roe
inada -- very young yellowtail
kaibashira -- eye of scallop or shellfish valve muscles
kaiware -- daikon-radish sprouts
kajiki -- swordfish
kani -- crab
kanpachi -- very young yellowtail
karei -- flatfish
katsuo -- bonito
kazunoko -- herring roe
kohada -- gizzard shad
kuruma-ebi -- prawn
makajiki -- blue marlin
masu -- trout
meji (maguro) -- young tuna
mekajiki -- swordfish
mirugai -- surf clam
negi-toro -- tuna belly and chopped green onion
ni-ika -- squid simmered in a soy-flavored stock
nori-tama -- sweetened egg wrapped in dried seaweed
Otoro -- fatty portion of tuna belly
saba -- mackerel
sake -- salmon
sawara -- Spanish mackerel
sayori -- (springtime) halfbeak
seigo -- young sea bass
shako -- mantis shrimp
shima-aji -- another variety of aji
shime-saba -- mackerel (marinated)
shiromi -- seasonal "white meat" fish
suzuki -- sea bass
tai -- sea bream
tairagai -- razor-shell clam
tako -- octopus
tamago -- sweet egg custard wrapped in dried seaweed
torigai -- cockle
toro -- choice tuna belly
tsubugai -- Japanese "tsubugai" shellfish
uni -- sea urchin roe

Maki-zushi (sushi rolls)

maki-mono -- vinegared rice and fish (or other ingredients) rolled in nori seaweed 
tekka-maki -- tuna-filled maki-zushi 
kappa-maki -- cucumber-filled maki-zushi 
tekkappa-maki -- selection of both tuna and cucumber rolls 
oshinko-maki -- -pickled-daikon (radish) rolls 
kaiware-maki -- daikon-sprout roll 
umejiso-maki -- Japanese ume plum and perilla-leaf roll 
negitoro-maki -- scallion-and-tuna roll 
chUtoro-maki -- marbled-tuna roll 
Otoro-maki -- fatty-tuna roll 
kanpyo-maki -- pickled-gourd rolls 
futo-maki -- a fat roll filled with rice, sweetened cooked egg, 
pickled gourd, and bits of vegetables 
nori-maki -- same as kanpyo-maki; in Osaka, same as futo-maki 
natto-maki -- sticky, strong-tasting fermented-soybean rolls 
ana-kyU-maki -- conger eel-and-cucumber rolls 
temaki -- hand-rolled cones made from dried seaweed 
maguro-temaki -- tuna temaki 

Other sushi terms

nigiri(-zushi) -- pieces of raw fish over vinegared rice balls 
Edomae-zushi -- same as nigiri-zushi 
chirashi(-zushi) -- assorted raw fish and vegetables over rice 
tekka-don -- pieces of raw tuna over rice 
sashimi -- raw fish (without rice) 
chakin-zushi -- vinegared rice wrapped in a thin egg crepe 
inari-zushi -- vinegared rice and vegetables wrapped in a bag of fried tofu 
oshi-zushi -- Osaka-style sushi: squares of pressed rice topped with vinegared/cooked fish 
battera(-zushi) -- oshi-zushi topped with mackerel 
tataki -- pounded, almost raw fish 
odori-ebi -- live ("dancing") shrimp 
oshinko -- Japanese pickles 
neta -- sushi topping 
wasabi -- Japanese horseradish 
gari -- vinegared ginger 
shoyu -- soy sauce 

---
Links to Asian Foods:
(where you can find what you need to make your own)
Katagiri Rare types of food and supplies I can only find here

---
(where you can find out more about asian foods)
Roll your own Sushi and other great tips
---
Number of visitors since May of 1999

The Japanese bow (`ojigi') is famous the world over is very convenient, since it can be used for greeting, thanking, leaving or apologizing.
It can be used when saying ``Good morning''(`ohayo'),``Hello''(`konnichiwa'), ``Thank you''(`arigato'),``Goodbye''(`sayonara')or``Sorry''(sumi masen')